Looking for the best winter walks in Dublin? I personally believe that walking is the best and easiest way to keep active in the winter months. It's also a way to make everyday life a bit more interesting and explore some of the places in which you have yet to set foot… until now!
But where are some of these trails?
I'm slowly learning that Dublin has far more parks, trails and walks than I have the time to explore. For this reason, I've been trying to mix things up as much as possible and visit new places and different trails rather than revisiting the same ones.
Let's take a look at some of my favourite trails and the best winter walks in Dublin.
1. The Great South Wall and Poolbeg Lighthouse
In spite of growing up in Dublin, the Great South Wall escaped my attention until just a matter of months ago. Since then, I've walked out to Poolbeg Lighthouse at least five or six times and it's now one of my favourite winter walks in Dublin. The lighthouse is here since 1768 and the wall stretches for more than 4 kilometres which made it the longest sea wall in the world at the time.
I like to think of this dander as being the perfect walk in Dublin to blow off the Christmas cobwebs. On a windy day, you'll get blown sideways and the exposed nature of the wall means you'll be out there in the elements from the moment you arrive. Aside from the impressive lighthouse, you will also find some of the best views of Dublin Bay. I also love watching the ships come in and out, while there are few better places in Dublin to enjoy the sunrise or sunset. In case you might be asking yourself, there's plenty of parking at Pigeon House Road and it's easy to reach the starting point of the walk. The walk is also buggy friendly and dog friendly and should take no more than one hour to complete.
2. The Bog of Frogs Loop in Howth
Most visitors to Howth seem to hug the waters edge as soon as they arrive in the village. There's nothing wrong with this and the cliff walk is stunning. However, I believe there's a much more interesting and varied adventure to be had on the Bog of Frogs Loop that joins up with this same cliff walk later on.
Starting at the train station, a series of purple arrows will take you through a series of hills, trails and rocky steps. There are beautiful views in this direction and the path leads through plenty of open fields and forests before joining the cliff walk at Red Rock. I often think the top of Red Rock offers the best views of Dublin and the lead up to this point uncovers a very different side of Howth to what you find in the village. From this point onward, the cliff walk will take you all the way back to "The Summit Carpark" where an old tramline walk runs back down to the village.
It's quite a lengthy walk (12/13km) that takes approximately 3 hours but the variety on this hike is well worth the effort. Also, it's a nice walk in terms of logistics because the Bog of Frogs loop will ensure you finish back at the starting point and all without having to go back the same way.
3. The West Pier in Dun Laoghaire
I've often wondered why the vast majority of people walk the East pier instead of the opposite side. That said, I didn't even know about the other side myself until recently so maybe that's why it's so much quieter. You can reach the starting point from the very same parking areas and the walk itself is little more than 3 kilometres in total.
Featuring a gravel trail, I believe this is also a very different experience to the other side and feels somewhat remote with there being so few people. You can also see for more than 10km along the coastline on a clear day and it's possible to find different viewpoints from the many boardwalks inside the harbour itself. It's surprisingly muddy in parts so decent walking shoes are recommended and the walk is also rather exposed which can make it quite cold. Either way, as long as you wrap up warm, this is a surprisingly quiet walk that offers stunning views and an opportunity to leave the busy city behind, if only for a little while.
4. The River Dodder Walk
I grew up next to this river in Firhouse but kids in my day were always encouraged to stay away from the River Dodder. It's changed immensely since then and the Dodder is now a popular landmark for recreation. And it's not just the section at Firhouse which has transfigured but rather the entire length of the River Dodder. In fact, local authorities have been working hard to join up the various marked trails along the river to create a long-distance walking trail in Dublin.
There are many starting/finishing points for the walk such as Bushy Park to Terenure or Ballsbridge to Rathfarnham. Each one is rather different and the further you go, the more change you are likely to notice along the way. From herons and ducks to foxes and beavers, there is so much life in and around the River Dodder, while the foliage is some of the most luscious in all of Dublin. This means you can expect to encounter tall trees and leafy canopies at every turn and the odd waterfall in between. It's such a beautiful stretch through a busy area and one that can feel far from Dublin when you're sat watching a beautiful heron standing his ground quietly.
Tip – Ballsbridge to Rathfarnham is a nice stretch. However, even a looped walk in Bushy Park can take you down and around the banks of the River Dodder.
5. Cruagh Wood in the Dublin Mountains
I don't often talk about Cruagh Wood because this is my own personal favourite winter walk in Dublin. Why? Because I want it all to myself. I'm not even joking when I say this because it's so much quieter than Massey Woods or the Hellfire carpark nearby. It's true that Cruagh Wood is without the majestic views in these areas or on top of Tibradden Wood nearby but there's just something special about Cruagh Wood that makes it feel especially private and mystical.
Cruagh Wood is situated in the Dublin Mountains and not far from Killakee. It's a granite mountain but the trails are accompanied by immense pine trees the entire way. These trails are also well marked and travel in different directions which can make for an exciting walk. If you have kids, there are some fairy signs on some of the trees near the beginning but they are not easy to find and half the fun is seeking them out.
Just so you know, it's also possible to access both Tibradden and Massy Woods from these trails but there's more than enough mileage in Cruagh Wood for a morning or afternoon.
6. Bohernabreena Reservoir Trail
Bohernabreena is home to another hidden gem for winter walks in Dublin. Located in Glenmasole Valley near Tallaght, this glistening reservoir is surrounded by a marked hiking trail. You will find Douglas fir and larch next to Scots Pine trees and a host of bird life including dippers, herons and kingfishers. Many nearby peaks are also within sight from the trail including the summit of Kippure. These summits are important because they are also home to remnants and archaeological sites which date back more than 5,000 years.
You can reach the Bohernabreena Reservoir by travelling to Tallaght and then along the R114 until you go past Dodder Valley Park and Kiltipper.
7. Massey Woods in the Dublin Mountains
Massey Woods is located just a short distance from Cruagh Wood and opposite the Hellfire Club car park in the Dublin Mountains. Believe it or not, this trail continues all the way across the mountains as far as Marlay Park. However, there is also a beautiful loop trail within Massey Woods that is one of my favourite winter walks in Dublin.
The river that runs through Massey Woods is really beautiful and such a tranquil place to spend time. You will also find the ruins of an old house/lodge at the centre of the woods and many opportunities to step off the trail and into the trees. I've often used a large swing in these woods, while taking care to stay out of sight and save myself from potential embarrassment.
Anyway, Massey Woods is extremely lush and overflowing with various species of trees. The trails are quite muddy in places but decent hiking shoes will set you straight. Otherwise, it's a short (2km) walk and a suitable trail for any kind of weather.
8. Barnaslingan Wood on the East Side of the Scalp
Barnaslingan Wood is situated on the outskirts of Dublin and close to the Enniskerry Road. As with much of Wicklow next door, "the Scalp" is a huge chasm that was formed by a glacial lake overflow during the Ice Age. You might notice remnants from this time in the form of boulders and outcrops but this walk is mostly enjoyable for the beautiful forest through which it runs.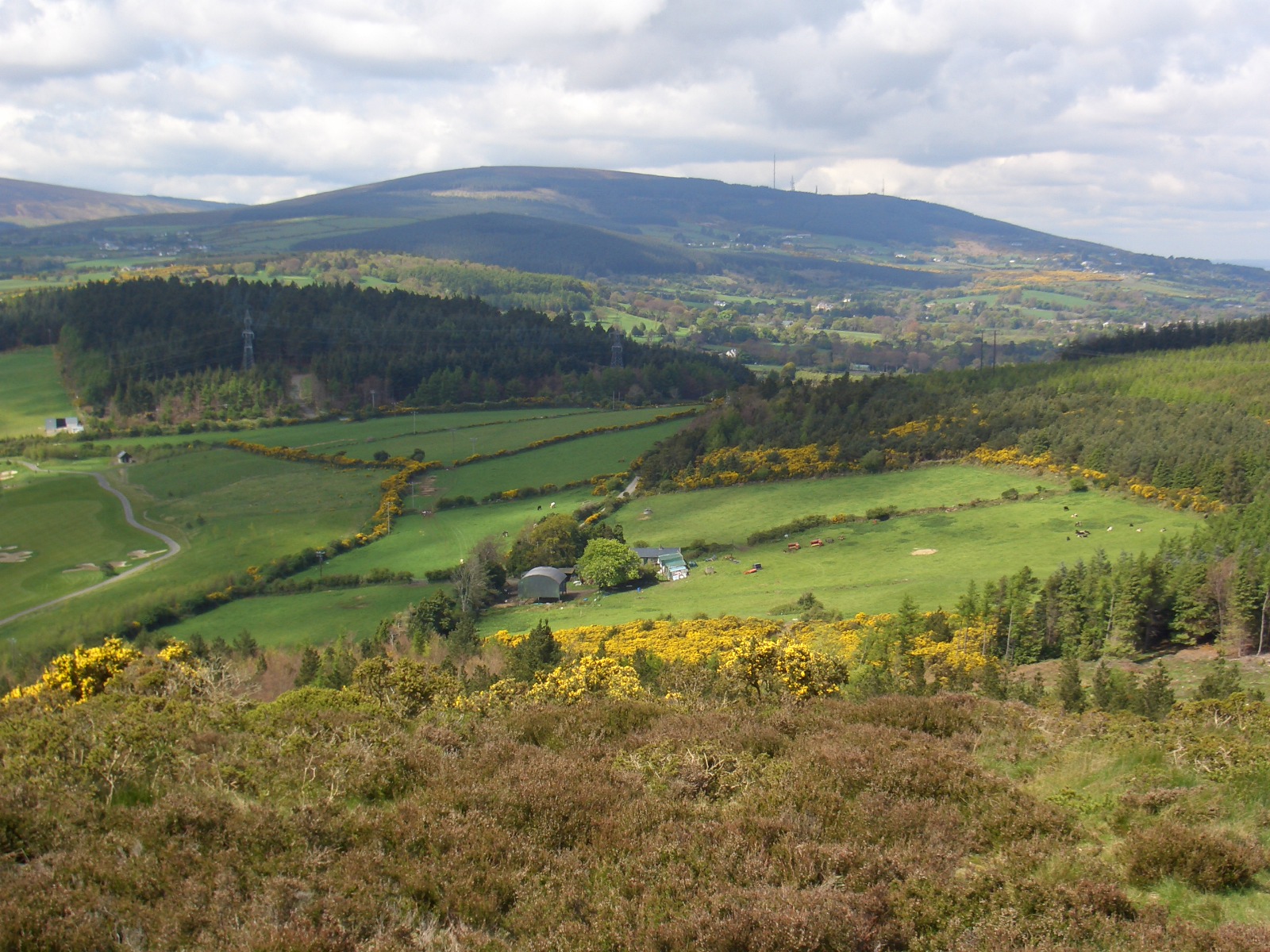 In fact, there are two different trails in the woods as the Dublin Mountains Way passes through Barnaslingan Woods. For a short walk, you can take the Pine Loop Trail which should take approximately 25 minutes and this joins up with the Scalp Lookout Trail which has some of the most incredible views. I'm not sure why Barnaslingan is not more popular but this will work in the favour of those who might want a quieter and more immersive winter walk in Dublin.
While I have many more favourite hiking trails near the city, these are some of the best winter walks in Dublin which are easy to access and thoroughly enjoyable to explore!